Dr. Smoothie Bio Bars for $1.00 per bar
The guys over at Dr. Smoothie have come up with a new product that they call Dr. Smoothie Bio Bars which are nutrition bars.

Here's what they sent me about their product:


Dr Smoothie BIO BARS

Peanut Butter Crunch

Chocolate Almond

A raw whole food nutrition bar. Living enzymes – low glycemic – 8 or 12g's of fiber – vegan – no preservatives – no cane sugar – no dairy – all natural – ONLY Healthy Stuff!

Live Healthy – Laugh Daily – Love Deeply.

Talk about the quickest and healthiest desk side snack. Drop a box into your desk drawer and take better care of yourself when your schedule doesn't allow it.


Apparently what happened was they had a packaging printing error and are now offering the bars at $1.00 per bar. (The bars retail for $2.50.) If you're interested in trying out the bars or buying a small supply, this could be the best time to do so.

To find out more information or place your order, contact Vikki Miglin at travel@drsmoothie.com or call (714)449-9787.

$1.00 per bar
$25.00 per case (25 bars)
$5.95 flat shipping/handling (up to 12 cases)

Here are the Bio Bar labels that were sent to me: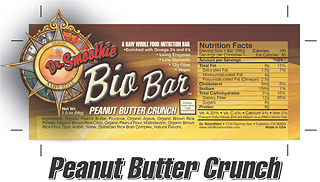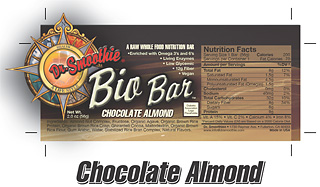 Leave a comment if this worked for you or doesn't work anymore or you've had experience with Dr. Smoothie products before.