Welcome to the New Server
My wife was tired of listening to my screaming (in terror and delight) and clicking reload every second to see the update to my hits. About when I hit 12,000 hits an hour, she decided that it was time to leave work and go see a movie. So, now I'm back and it looks like during this period of time the site has moved from the old DotEasy servers to the Surpass Hosting servers. So, for a period of time, everyone's been looking at slightly older version of the Cooking For Engineers site (my backup). I just setup Blogger to properly update the new server, so we should be up and running.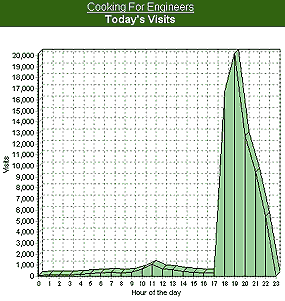 I would like to thank everyone who donated to the site during this amazing time. (I would have posted everyone's names, but I was concerned for people's privacy.)

Also thank you everyone who offered to host my site and also gave suggestions on how to reduce my bandwidth usage.