Test Recipe: Albers Corn Bread
Recently, in the
Forum
JediLow asked for a cornbread recipe. So I thought I'd see how the Albers back of the box recipe does. In my experience, some of the back of the box recipes are horrible and some are excellent (Nestle Tollhouse Cookies). So, here we go.


Supermarkets in my area carry a brand of cornbread called Albers.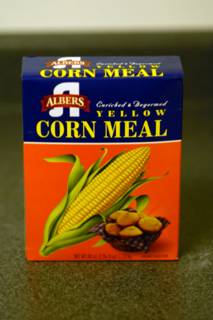 Here's the transcribed recipe from the back of this box of Albers Yellow Corn Meal.



Albers Cornbread
1 cup ALBERS Yellow Corn Meal
1 cup all-purpose flour
1/4 cup granulated sugar
1 Tbs. baking powder
1 tsp. salt
1 cup milk
1/3 cup vegetable oil
1 large egg, lightly beaten

PREHEAT oven to 400°F. Grease 8-inch-square baking pan.
COMBINE corn meal, flour, sugar, baking powder and salt in medium bowl. Combine milk, oil and egg in small bowl; mix well. Add milk mixture to flour mixture; stir just until blended. Pour into prepared pan.
BAKE for 20 to 25 minutes or until wooden pick inserted into center comes out clean. Serve warm.
NOTE: Recipe may be doubled. Use greased 13x9-inch baking pan; bake as above.



In the medium bowl, I placed the corn meal and flour. I measured out sugar, baking powder and salt as well. In the measuring cup, I poured whole milk and canola oil and broke a large egg into it.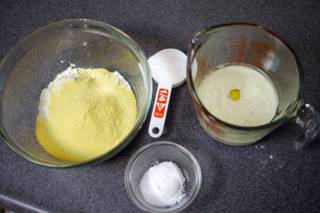 I poured the sugar, baking powder, and salt into the medium bowl and gave the dry ingredients a quick whisk.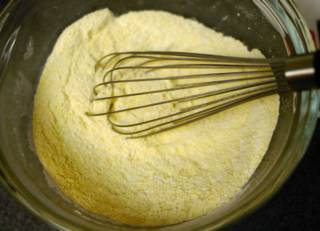 I whisked the liquids until they were smooth and poured it into the medium bowl over the dry ingredients.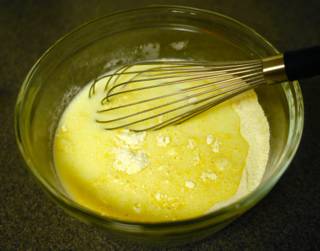 After whisking briefly, I poured the batter into a greased 8x8 inch pan.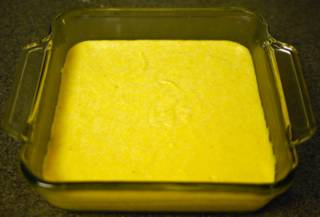 Into a 400°F oven it went and twenty minutes later I came back with a bamboo skewer. Plunging the skewer into the middle of the cornbread, I checked to see if anything stuck to the skewer as it came out. It came out clean, so the cornbread was done.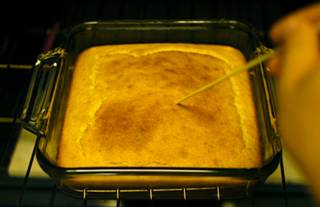 Normally, I'd cut the cornbread into nine pieces of 2-2/3 in. squares, but neither Tina nor I were hungry, so I cut it into sixteen pieces.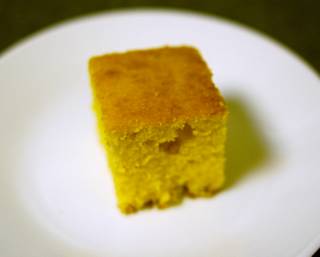 So, how did it taste? Tina and I both agreed that there was not enough sugar and for some reason there was a slight sour taste. I can't figure out what could have caused the sourness unless my canola oil had gone bad (I'm sure I would have noticed since I smelled and examined it beforehand). The baking powder should chemically counteract itself (in terms of acid and base reactions) and the milk was definitely not sour (since I had a glass with dinner).

In addition, I found the texture more gritty than what I like in a cornbread (I hate to admit it, but the cornbread I like is from Boston Market), but Tina felt the texture was about right and what she expected.

I'm going to have to test this recipe at least once more to see if the sour flavor persists.

Albers Corn Bread
(serves nine)
Preheat oven to 400°F
1 cup yellow corn meal
combine
stir
bake 400°F 20 min.
1 cup all-purpose flour
1/4 cup granulated sugar
1 Tbs. baking powder
1 tsp. salt
1 cup whole milk
whisk
1/3 cup vegetable oil
1 large egg
Copyright Michael Chu 2004