Recipe File: Traditional Chicken Pot Pie
Perhaps there's no comfort food as comforting as a nice hot chicken pot pie. It's also a breeze to make. Chicken Pot Pie is comprised of three recipes: the toppping or crust (Pie Crust or Biscuits), Creamed Chicken, and additional vegetables.


Since the topping can be anything fluffy or flaky (I like a basic rolled biscuit top), I won't cover this recipe here.

Let start with the creamed chicken. We'll need two cups chicken broth, 4 tablespoons of butter, 1/2 cup all purpose flour, 1-1/2 cup whole milk, 2 tablespoons sherry, 1/2 teaspoon nutmeg, lemon juice and white pepper.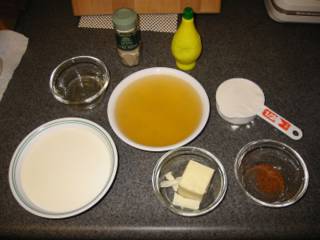 Cube (or shred) previously cooked chicken into bite size pieces and place on side.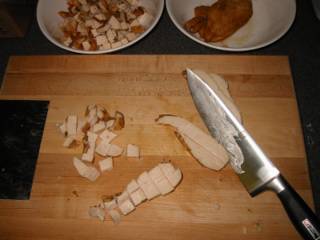 Melt butter in sauce pan or saucier over low heat. Pour flour in and whisk.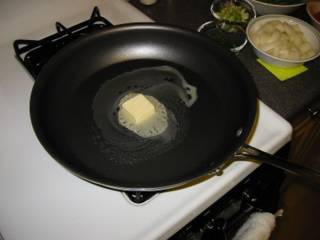 After one minute, remove from heat and add 2 cups chicken broth.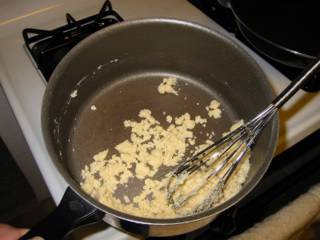 Whisk until smooth.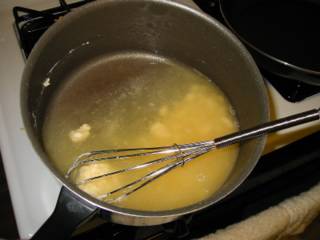 Add milk and whisk over medium heat until simmering. Remove from heat and scrape the sides of the saucepan with a heat-proof spatula. Whisk vigorously to break and chunks and return to medium heat for one more minute.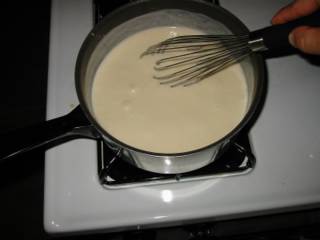 Turn off heat and mix in chicken & sherry until evenly distributed. Add lemon juice, nutmeg, salt and white pepper to taste.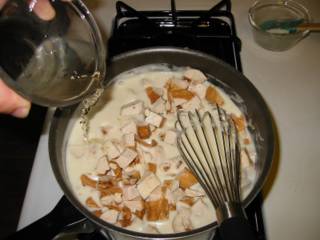 Now that we have creamed chicken, prepare the ingredients for chicken pot pie: 2 tablespoons butter, 1 chopped medium onion, 1-1/2 cup chopped carrots, 1/4 cup chopped celery, 3/4 cup peas, 3 Tbs. minced fresh parsley. Peas and carrots can be be the frozen kind. Thaw in water and drain.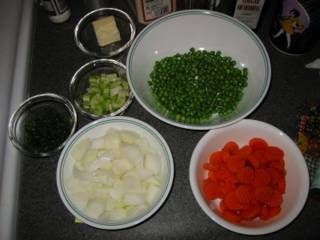 Melt butter in nonstick skillet over medium heat.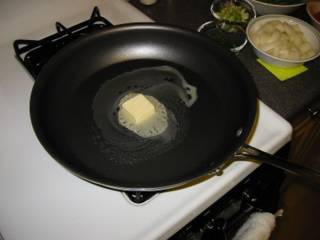 When butter is foaming, add onions, celery, and carrots and cook until tender, about five minutes.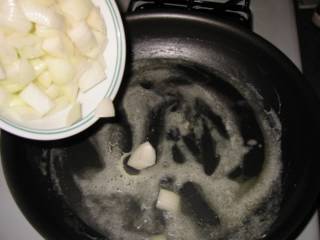 Stir vegetables (including parley and peas) into creamed chicken and pour mixture into baking pan.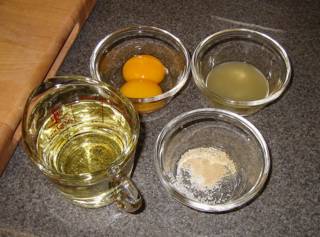 Now top with either pie crust or biscuit dough. I usually use biscuit dough because I like the fluffy texture.

After making biscuit dough, cut and layout all the biscuit pieces to cover the pot pie.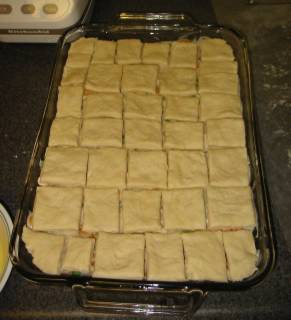 Using a pastry brush, brush beaten egg over the surface of the pot pie crust to give it a brown color after baking.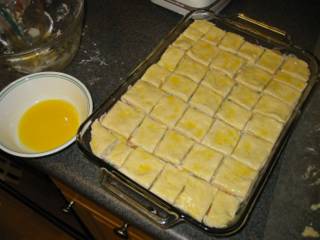 After baking for 25 to 35 minutes at 400°F, the crust should be golden brown and the chicken mixture should be bubbling. Your pot pie is now complete and ready to serve.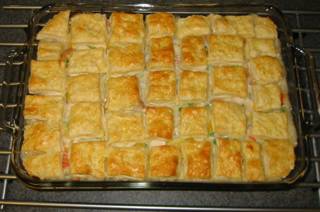 Chicken Pot Pie
Creamed Chicken
4 Tbs. butter
melt
combine over low heat
combine
bring to simmer
Scrape sides
cook one minute
mix in
season to taste
1/2 cup all purpose flour
2 cups chicken broth
1-1/2 cups whole milk
3 chicken breast halves, cooked
cube
2 Tbs. sherry
1/2 tsp. nutmeg
lemon juice
white pepper
salt
Chicken Pot Pie
2 Tbs. butter
melt
saute
mix
pour into 9x13 pan
lay on top
bake at 400°F for 25 min.
1 medium onion, chopped
1-1/2 cup carrots, chopped
1/4 cup celery
3/4 cup peas
3 Tbs. parsley, minced
2-1/2 quarts creamed chicken
2 cups crust dough
Copyright Michael Chu 2004